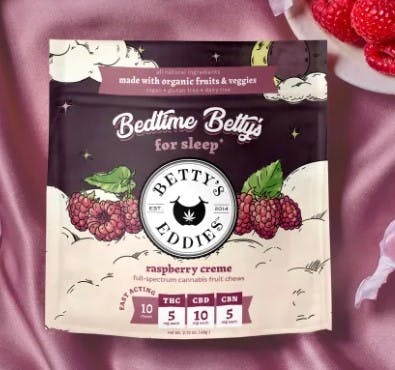 Brand: Betty's Eddies
Bedtime Betty's Raspberry Creme | Fruit Chew | 10pk | 5mg | Betty's Eddies
THC:50mg
Edibles are created either by infusing cooking oil or butter with cannabis extract, or by mixing extract directly into other ingredients. Because edibles are digested and absorbed by your stomach and liver, the activation is often longer than other consumption methods, taking on average 45 minutes, and sometimes up to 2 hours. It is important to start low and slow when consuming edibles so you don't over do it. Take extra caution to ensure edibles are out of the reach of children.
About the brand :
Betty's Eddies
At Betty's Eddies, they're all about good, clean, fun.
Their mission is simple – do good for the community, cook with only clean ingredients and spread fun & positivity while they do it.
They're extra "chewsy" about our ingredients which means all Betty's Eddies are vegan, gluten-free, made with real fruits & veggies, and infused with naturally extracted THC.
Pure goodness, just the way Mother Nature (and Betty) intended.