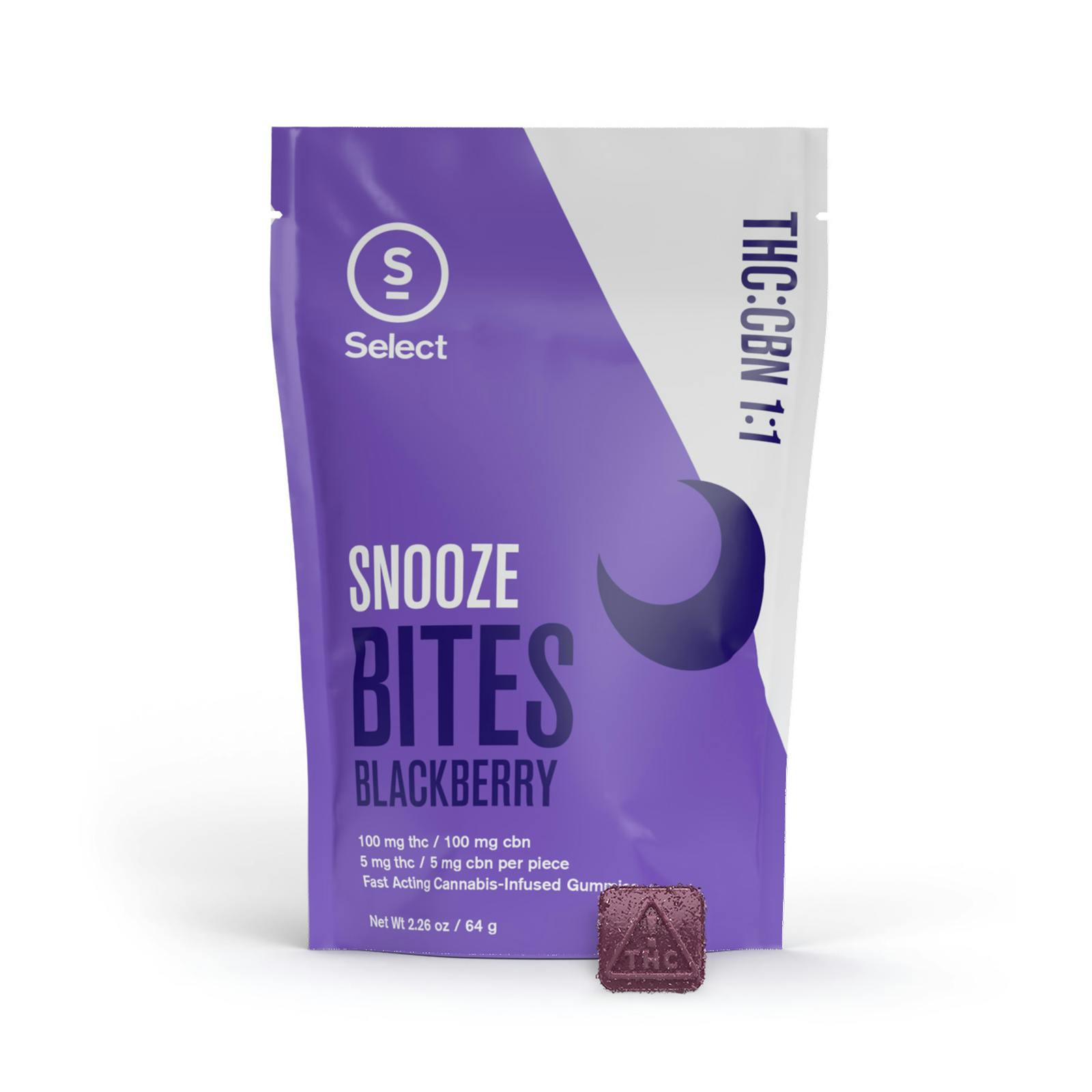 Brand: Select
Blackberry Snooze Bites 20pk
Designed for the perfect wind-down, Snooze Bites combine a unique 1:1 ratio of fast-acting THC and long-lasting CBN. The scientifically developed formula incorporates 5mg of nano-encapsulated THC, which is made by creating tiny, water-soluble molecules from cannabis oil and is therefore quickly absorbed into the bloodstream with effects typically experienced within 15 to 30 minutes. When paired together with 5mg of CBN – a cannabinoid typically known for its relaxing and restorative qualities – users can expect a heightened combined experience.
Effects
CalmHappyRelaxedEnergetic
View Product Testing Data
CBN (Cannabinol)
100
CBN (Cannabinol)-100
CBN is a cannabinoid that is created during the breakdown of THC by UV light and exposure to oxygen. This breakdown usually begins during the drying and curing process. CBN is most commonly found in older or improperly stored cannabis samples. This compound is mildly psychoactive and is best known for its sedative effects. Strains and products with high concentrations of CBN can be a great choice for users looking to utilize cannabis products to ease restlessness and promote healthy sleep.
About the brand :
Select
Select holds their oil to the highest standards with the most stringent & progressive testing in the industry. They were the first company to begin proactively testing for a full panel of 66 analytes at the PPB (Parts Per Billion) level.
Select uses Ethanol Hash Oil extraction methods, allowing for the greatest levels of cannabinoid retention. Select's thoughtful terpene preservation process delivers an unmatched oil, superior in quality & potency.
Ceramic core technology evenly distributes heat to the oil, increasing quality & volume of vapor. Unbleached, organic cotton wicks mean enhanced purity, flavor, and quality in each puff