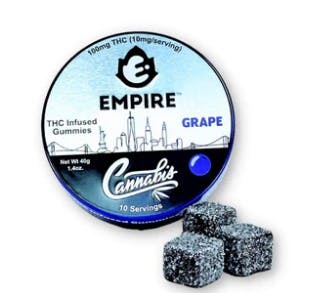 Brand: Empire
Grape Gummies 100mg
Introducing our delicious full spectrum THC 10mg grape gummies! These tasty treats are perfect for those looking for a convenient and discreet way to enjoy the benefits of THC. Each gummy contains 10mg of full spectrum THC, making them a great option for those looking for a milder dose. The grape flavor is sweet and satisfying, making these gummies a tasty way to unwind after a long day.
Whether you're looking to relax and reduce stress or to manage pain and anxiety, these gummies are a great option for anyone looking for a convenient and delicious way to enjoy the benefits of THC.
THC per gummy = 10mg
THC per package = 100mg
Gummies per package = 10
INGREDIENTS: Corn Syrup, sugar, gelatin (bovine), potassium sorbate, citric acid, flavoring, soy lecithin, Cannabis distillate, food coloring
Effects
CalmEnergeticHappyRelaxed
About the brand :
Empire
Whether it's flower, pre-rolls, oils, tinctures, capsules or topicals – it's pesticide free. When tested, all Empire products test metal-free. Empire was one of the first in the state to be medically compliant and they continue to strive to have the cleanest and safest cannabis around.