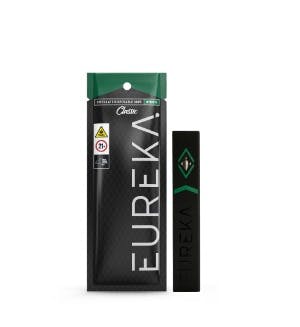 Brand: Eureka
HPI – EUREKA – MIMOSA
Hybrid
THC:83.63%
CBD:0.64%
Sativa
THC
83.63%
CBD
0.64%
The CLASSIC Mimosa disposable brings you our pure & potent distillate in a convenient, rechargeable vape.
Mimosa produces happy, level-headed effects that will leave you feeling uplifted and motivated enough to take on any mundane task. This strain has a strong aroma and flavor that reminds you of its namesake, with notes of fruit and citrus flavors bursting through.
Our cannabis oil is 100% natural, pesticide-free, solvent-free, and never cut or altered with MCT, PG, VG or Vitamin E Acetate.
Solvent-Free Distillate
Cannabis Derived Terpenes
Potency 80-90% THC
86-99+% Total Cannabinoids
Lab Tested Ceramic Hardware
Heavy-Metal Free Technology
Rechargeable (Micro-USB)
Effects
Energetic
Happy
Creative
Focused
Effects
CalmHappyRelaxedEnergetic
About the brand :
Eureka
As pioneers in the vape industry, Eureka was one of the originators of modern CO2 extraction. They set the gold standard in award-winning cannabis oil.
They combined their passion for the craft with their state of the art proprietary process, to create high-end cannabis products at low prices. They believe in people over profit — and to prove it, their price point reflects their values. As a family-owned and operated business for nearly a decade, they treat their patients like family — providing access to clean, safe, all-natural medicine that you can trust. They have used the same master extraction artists since day one, guaranteeing the utmost flavor, potency, and purity in every drop.