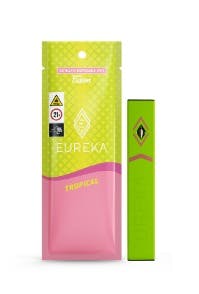 Brand: Eureka
HPI – EUREKA – TROPICAL
Hybrid
THC:83.63%
CBD:0.64%
Sativa
THC
83.63%
CBD
0.64%
The FUSION Tropical disposable brings you our pure & potent distillate combined with naturally-derived fruit terpenes in a convenient, rechargeable vape.
Tropical is the taste of the islands in a disposable vape! Blending all your favorite tropical fruits like coconut, papaya and pineapple, this flavor will keep you feeling like you're living life on the beach in the middle of the busy city.
Solvent-Free Distillate
Naturally Dervied Fruit Terpenes
Potency 80-90% THC
86-99+% Total Cannabinoids
Lab Tested Ceramic Hardware
Heavy-Metal Free Technology
Rechargeable (Micro-USB)"
Effects
Energetic
Happy
Creative
Focused
Inspired
Effects
CalmHappyRelaxedEnergetic
About the brand :
Eureka
As pioneers in the vape industry, Eureka was one of the originators of modern CO2 extraction. They set the gold standard in award-winning cannabis oil.
They combined their passion for the craft with their state of the art proprietary process, to create high-end cannabis products at low prices. They believe in people over profit — and to prove it, their price point reflects their values. As a family-owned and operated business for nearly a decade, they treat their patients like family — providing access to clean, safe, all-natural medicine that you can trust. They have used the same master extraction artists since day one, guaranteeing the utmost flavor, potency, and purity in every drop.