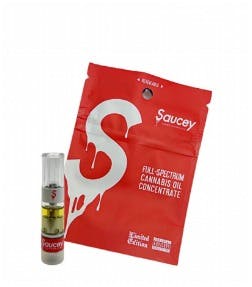 Brand: Saucey
HPI – SAUCEY – SOUR DIESEL – VAPE
Sativa
THC
87.3%
CBD
0.8%
Sour Diesel, sometimes called Sour D, is an invigorating sativa-dominant strain named after its pungent, diesel-like aroma. This fast-acting strain delivers energizing, dreamy cerebral effects that have pushed Sour Diesel to its legendary status. Stress, pain, and depression fade away in long-lasting relief that makes Sour Diesel a top choice among medical patients. This strain took root in the early '90s, and it is believed to have descended from Chemdog 91 and Super Skunk.
Effects
Energetic
Happy
Creative
Focused
Effects
CreativeEnergeticFocusedHappyInspired
About the brand :
Saucey
Saucey offers an extensive selection of products ranging from vape cartridges to cannabis flower and just about everything in between with the highest potency available anywhere. Their proprietary refining process results in ultra-refined cannabis oils with higher levels of psychoactive elements than available previously.
Not all cannabis cartridges are created the same. Until now, all cannabis oil extraction methods have required the stripping of the naturally grown mother terpenes from the bud. Mother terpenes are the unique, flavorful and aromatic oils that largely contribute to the effects the plant provides. Unlike other brands, Saucey never used distillate or blended any type of cutting agent in their carts. Saucey Vape Cartridges are curated using a patented proprietary extraction method using cannabis chromatography.