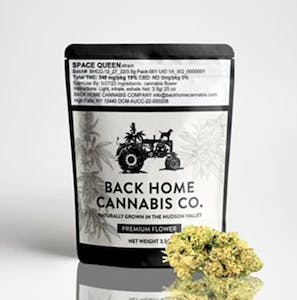 Brand: Back Home
Space Queen
Hybrid
THC
19.0%
Space Queen is one of the real standouts from our grow this year and is a must try from our first batch. Taste the smooth, cured, chemical free buds express themselves in their most natural, trimmed form. It comes with an incredibly floral aroma with high terps and is guaranteed to impress.
Main flavors of Space Queen Strain
This marijuana contains terpenes such as myrcene, pinene, and caryophyllene. The strongest and most distinct smell is a fruity one. Moreover, users mentioned such tastes:
Citrus
Fruity
Herbal
Pineapple
Spicy
Sweet
Tropical
Potency and effects
THC levels range from 15 to 17% of the content. However, some strains go up to 22% and are not suitable for beginners. The high has a sedative character, although smokers often noted that they could easily move around. Kush works well both day and night. A small dose will help you relax and avoid unpleasant side effects. Space Queen also acts on the consumer's brain, stimulating creativity. But the main effect is a feeling of happiness, reaching euphoria. Side effects include dry mouth, redness of the eyes, and dizziness. However, medicine is using the Space Queen to relieve:
ADHD
Chronic Pain
Depression
Fatigue
Headaches and Migraines
Muscle Spasms
Nausea
PTSD and Stress
*THC potency claim is made by the cultivator and USQTA in no way attests to the accuracy of the claim.
Effects
CalmEnergeticHappyRelaxed