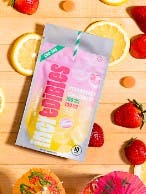 Brand: Incredibles
Strawberry Lemahhhnade | Gummy | 20pk | Incredibles
THC:100mg
Cannabis infused gummies evenly dosed commonly sold in multi-packs, which makes controlling your intake easy and reliable. Because edibles are digested and absorbed by your stomach and liver, the activation is often longer than other consumption methods, taking on average 45 minutes, and sometimes up to 2 hours. It is important to start low and slow when consuming edibles so you don't over do it. Take extra caution to ensure edibles are out of the reach of children.
About the brand :
Incredibles
Founded in 2010, incredibles is recognized as the number one infused edible in Colorado. Known as experts in both infused edibles and extracts, incredibles has become synonymous with quality and consistency throughout the country and around the globe.
With experienced leadership having over 20 years of combined food and product manufacturing experience, it's no surprise that incredibles' mission is to consistently provide high-quality, handcrafted infused products that taste great. incredibles products, which include a wide variety of chocolate bars, gummies, and concentrates for both medical and adult-use are carried by more than 760 Colorado dispensaries. Every edible consists of precisely measured e-portions ensuring dose accuracy and effectiveness.