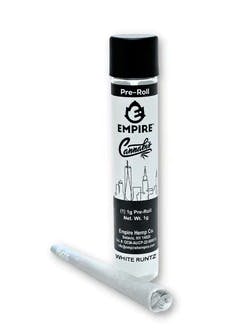 Brand: Empire
White Runtz
Experience the remarkable fusion of Gelato and Zkittlez strains in our White Runtz 1g single pre-roll, expertly crafted to deliver a potent, sativa dominant hybrid cannabis experience. Housed in a stylish, reusable glass tube, this pre-roll promises long-lasting, soothing effects for a truly unparalleled smoking experience.
Features:
Premium Strain Cross: White Runtz is a masterful blend of two legendary strains, Gelato and Zkittlez, delivering a powerful, sativa dominant hybrid that is perfect for cannabis connoisseurs.
Long-lasting Effects: Indulge in the soothing, long-lasting effects of White Runtz, a strain known for its relaxation and uplifting qualities, ideal for stress relief and enhancing creativity.
Expertly Crafted Pre-Roll: Our 1g single pre-roll is meticulously rolled for a smooth, even burn, ensuring a consistent and enjoyable experience from start to finish.
High-Quality Glass Tube: The sleek, reusable glass tube not only protects your pre-roll but also maintains its freshness, allowing you to savor the full flavor and potency of White Runtz.
Ideal for Sharing: The 1g single pre-roll size makes White Runtz perfect for sharing with friends, making it an excellent choice for social gatherings or quiet evenings at home.
Elevate your smoking experience with the White Runtz 1g single pre-roll, a sativa dominant hybrid that boasts a unique combination of potent effects and smooth flavor. With its sleek glass tube and expertly crafted design, this pre-roll is the ultimate choice for cannabis enthusiasts seeking an exceptional, long-lasting experience.
Strain: White Runtz
THC%/Type: (25.8% THC, Hybrid)
Size: 1g Single Pre-Roll Tube
Effects
CalmHappyRelaxedEnergetic
About the brand :
Empire
Whether it's flower, pre-rolls, oils, tinctures, capsules or topicals – it's pesticide free. When tested, all Empire products test metal-free. Empire was one of the first in the state to be medically compliant and they continue to strive to have the cleanest and safest cannabis around.